October 7, 2020
Activities | Peacebuilding | Project։ Stability of HCA Vanadzor in the light of democracy and human rights challenges in the Republic of Armenia 2020 | Peaceful Regulation of Conflicts | Publications | News
Throughout the night and on October 7, the Azerbaijani side continued sending missile strikes on Stepanakert. During the day, Shushi, Hadrut and other settlements in Artsakh/NK were also targeted. RA MoD representative Artsrun Hovhannisyan reported about this on his Facebook page. Data on those affected by the missile strikes have not been summed up yet. 
RA Human Rights Defender Arman Tatoyan announced that mercenaries and members of terror groups are involved in military attacks from Azerbaijan against the Armenian population.
Shushi, Artsakh/NK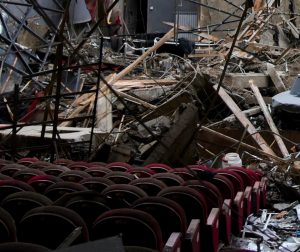 International organizations and initiatives made statements regarding the situation.
UNICEF Statement on the Nagorno-Karabakh conflict
https://hcav.am/en/english-unicef-statement-on-the-nagorno-karabakh-conflict/
Statement on re-emergence of violence in the Nagorny Karabakh conflict context․ Civic Solidarity Platform
https://hcav.am/en/english-statement-on-re-emergence-of-violence-in-the-nagorny-karabakh-conflict-context/
Armenia/Azerbaijan: Civilians must be protected from use of banned cluster bombs․ Amnesty International
https://hcav.am/en/english-armenia-azerbaijan-civilians-must-be-protected-from-use-of-banned-cluster-bombs/
Read about the previous days HERE



views: 294