NKR InfoCenter reported that during the night between October 7-8, the Azerbaijani side continued hitting Stepanakert with missiles.  
Republic of Artsakh/Nagorno-Karabakh, c. Stepanakert
Արցախի Տեղեկատվական շտաբ / NKR InfoCenter / НКР ИнфоЦентр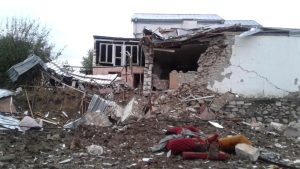 On October 8, the Azerbaijani armed forces continued striking Shushi with missiles and struck St. Ghazanchetsots church in Shushi. Armenian Unified Infocenter reported about this.
Republic of Artsakh/Nagorno-Karabakh, c. Shushi, St. Ghazanchetsots church
Armenian unified infocenter/Հայկական միասնական տեղեկատվական կենտրոն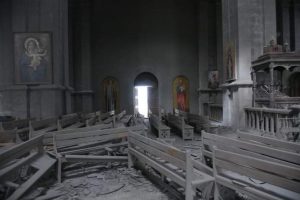 In the evening of October 8, RA MoD representative Artsrun Hovhannisyan informed that a foreign journalist had been injured as a result of shelling near the church in Shushi, the journalist had been transferred to hospital.
Later, Hovhannes Movsisyan, Director of "Public Relations and Information Center" SNCO of the Staff of the RA Prime Minister, informed that a few journalists had been injured in Shushi, one of them was in a serious state, and according to the preliminary information received from Stepanakert, the Russian journalist was being operated on.
In the frame of fact-finding mission, the Human Rights Defender of the Republic of Artsakh/Nagorno-Karabakh conducted a thorough research of the cases of criminal encroachments committed by the Azerbaijani armed forces against the civilian population of Artsakh for 27.09.2020-07.10.2020 time period. The results show that as of October 7, a total of 20 civilians have been killed, one of whom was a little girl, 7 were women and 12 were men. "The Azerbaijani aggression is aimed at causing human losses and material damages in Artsakh", Artak Beglaryan wrote.
Thus, according to the Infocenter, since September 27, there have been 22 civilians killed and 95 civilians injured in Artsakh/NK and Armenia.
Read about the previous days HERE